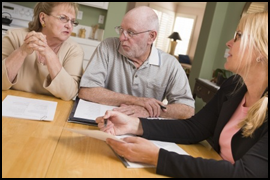 In "Do Your Family a Favor: Get Organized," an informative article available at www.inc.com, the author reminds us that there are many practical issues not addressed by basic estate planning documents.
For example, after you die will your loved ones know whether or not you want a funeral or a memorial service? Will they know whether you want to be honored with flowers or donations to specific charities? Will they know who you want to be notified about your death? Will they know where to locate the original copies of your will or living trust? How about your bank and investment accounts, will your loved ones know where to find your financial records?
And, there are other matters as well. How about your family history and your final wishes regarding your most cherished possessions?
Unfortunately, most of us carry this kind of detail around in our heads, but we can spare our loved ones a lot of anguish later on by getting organized and communicating this information in a comprehensive way. What seems like an onerous task can be eased by using these great resources: 
Everything Your Heirs Need to Know
 Everything Your Heirs Need to Know: Organizing Your Assets, Family History and Final Wishes is a record keeping book written by David S. Magee and John Ventura . This simple-to-use tool will enable you to assemble your important information—such as personal history, insurance policies, benefits, bank accounts, real estate, miscellaneous assets and debts, will and trust agreements, and final wishes—into one volume.
Personal Record Keeper
Simplify the task even more by utilizing your computer. This user-friendly software program will help you to organize all of your business, financial, and family records. You can also use this tool to record your personal and family history, create a home inventory, list all of your health care providers, and much more. Order or download from the Nolo Press web site, www.nolo.com.
Ethical Wills
Ethical wills are not legally binding, but many estate attorneys and financial planners encourage their clients to write them. In contrast to a traditional will that transfers worldly possessions, an ethical will passes on values, ideas, lessons learned, personal history, family stories, and messages of love and forgiveness. Not only a wonderful gift for loved ones, but the authors of these documents report they receive benefit as well. They learn a lot about themselves in the process of identifying their values and articulating what is most important to them. For more information, read Ethical Wills: Putting Your Values on Paper by Barry Baines, M.D. or visit www.ethicalwill.com.
---
Reprinted by permission of Money Quotient, NP
Image Copyright: feverpitched / 123RF Stock Photo