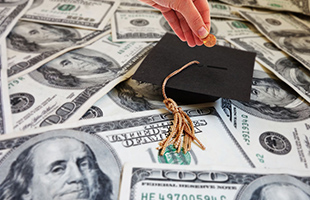 By Guest Blogger: Jodi Okun, Founder of College of Financial Aid Advisors
The cost of financing a child's college education can be daunting to many families. Generally the family is the source of the primary support; however, financial assistance does exist.
The federal government administers six major financial assistance programs. Three of these programs are direct assistance programs, with the assistance going directly to the student. The other three programs are administered through the college that the student attends and funds are sent directly to the college, which in turn dispenses the money to the student in accordance with federal guidelines.
Pell Grants. The Pell Grant is based solely on financial need. The amount of the award is based on student need (within certain limits) and on how much money Congress appropriates to the program each year. It is important to apply for a Pell Grant even if you think you won't qualify, since many college and state aid programs require it.
Stafford Student Loans. The Stafford Student Loan is a federally-subsidized loan program that allows the student to borrow from private lenders and the government at low interest rates. Families with high incomes are eligible for the program if certain need tests are satisfied.
Parent Loans for Undergraduate Students. Parent Loans for Undergraduate Students (PLUS) loans are available to parents of dependent undergraduate students. Repayment of a PLUS loan begins 60 days after parents receive the money, and each lender establishes a repayment period of up to 10 years.
Supplemental Education Opportunity Grant. A Supplemental Education Opportunity Grant (SEOG) is a grant to a student with demonstrated financial need. The money is sent by the federal government directly to the colleges, which determine the award amount and dispense the money to the students.
College Work-Study Program. The College Work-Study Program is a program administered by each participating college to provide employment for students who demonstrate financial need. Students normally obtain employment under this program as part of an overall financial aid package.
The Perkins Loan. Perkins Loans are based on the student's calculated need. Although the interest rate is low, funds are limited and students should submit the financial aid application early. A student will pay no interest while still in school. There is a nine-month grace period after leaving college. Repayment is stretched out over 10 years.
It is important to begin early and thoroughly investigate all potential sources of financial aid. Your child's college placement office can be a good starting point for information on financial aid sources. And, as with all important financial goals, your financial professional can help you take the steps to build the funds you'll need for your best investment, your children's college education.
College Financial Aid Advisors (CFAA) was founded by Jodi Okun to provide a one on one service for parents who seek financial aid for their children's higher education. CFAA is dedicated to guiding families through the process of applying for and establishing financial aid in a manner that is both effortless and precise.