"The new year stands before us, like a chapter in a book, waiting to be written. We can help that story by setting goals." Melody Beatty
For some of us goal-setting feels like a chore or even pointless, especially if we have failed to achieve our goals in the past. Or we might want to avoid the pressure of living up to our dreams.
Once we admit (even to ourselves) what we really want, we can't go back to our prior state of denial. We will feel compelled to take action or suffer with our feelings of powerlessness.
Rabbi Tarfon, a Jewish sage who lived in the 1st – 2nd centuries CE, would say: "You are not called upon to complete the work, yet you are not free to avoid doing your part."
I love this wise quote because it gives me a sense of freedom. I know that I don't have complete control over my life. At times I feel powerless to make change in my own life, let alone in the broader world.
But Rabbi Tarfon says that even in the face of doubt and overwhelm, we are called upon to identify what our "work" is and engage with it. Claiming our dreams for the world and ourselves leads us to action.
The idea of "doing our part," opens up the possibility of collaborating with and receiving support from others. It energizes us to dream bigger and visualize our contribution in a larger context.
Not being "called upon to complete the work" frees us from fear of failure. From this perspective we define success as taking the action that is possible for us in the moment. We do our best. If the result looks like failure, we learn from it. We don't let a failed outcome define who we are.
This powerful, courageous approach contrasts with traditional SMART (Specific, Measurable, Attainable, Realistic, Tangible) goal-setting. In my blog post Are SMART Goals Wise?, Carol Anderson of Money Quotient, says,
"For many, this [SMART] template for goal setting is rigid and uninspiring. It puts the concept of planning and achievement in a linear framework that appeals only to the rational side of our brains. Our goals then become a list of "shoulds" that require us to be disciplined and methodical in order to reach our objectives.
By imposing deadlines, we can create stress that stifles our ability to overcome obstacles in creative ways. In addition, deadlines tend to cause us to set goals that are within our current reality. More open-ended goals encourage us to "dream big"—to stretch our imaginations and indulge in possibility thinking."
So, how do we open our minds, call up our inner-most dreams and set powerful goals?
This process is at the heart of the planning work that I do with my clients. I use goal-setting tools from Money Quotient and I have combined my favorites into a downloadable workbook. Click here to download your copy and get started setting your powerful goals!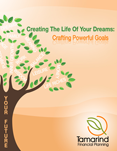 Top Image Copyright: tomertu / 123RF Stock Photo