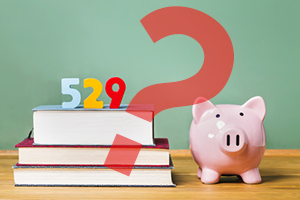 When you were the parent of a newborn, you might have had a moment or two of clarity amid the haze of exhaustion and sleep deprivation. And in those moments, you might have opened a tax-free college fund for the tiny person sleeping nearby.
Fast-forward 18 years—through board books, potty training, the first day of school, summer vacations, soccer games, birthday parties and middle school—and suddenly that tiny person is a high school senior. Meanwhile, you've been dutifully adding to the 529 plan to cover the expense of four years of college. The earnings through this plan are tax-free, and so are the withdrawals for qualified education expenses, making this a popular vehicle for covering college costs.
So imagine your surprise and shock when your teen confesses he doesn't think he wants to go to a four-year university—at least not right now. Or maybe ever.
Though you may feel he's an outlier, he's far from alone. Only about 67 percent of high school graduates enroll in college after graduation, according to the U.S. Department of Labor's Bureau of Labor Statistics. That means a third of high school seniors' post-graduation plans include work, career training, gap year activities or a combination of those options.
Depending on your son's plans, he and you may be able to use the 529 money for other expenses, in some cases without incurring penalties. Here's how a few scenarios might play out financially:
A "gap year" break after high school: Backpacking across Europe definitely can't be covered by your 529 funds. Neither can living expenses while your teen teaches surfing in Hawaii or skiing in Colorado. But if he's interested in an outdoor education program of up to 85 days through Outward Bound, he can receive academic credit from Western State Colorado University—and use a 529 to pay for it.
Trade school: If your daughter wants to enter a trade, such as plumbing, she'll need to complete trade school and apprentice with more experienced workers. You can use 529 funds for the costs of her technical or vocational school education as long as the program she attends is accredited. Good news: Plumbers in California earn an average of $61,093, and pay increases with experience.
No continuing education: When college, trade school and other higher education opportunities are off the table, you have a few choices:

Use the funds for another child or set it aside for your grandchildren. There's no requirement that the funds must be spent over a fixed period of time, but you may want to change your asset allocation if your investing horizon changes.
Withdraw the money. You'll pay tax on the growth—but not the initial investment because you contributed after-tax dollars—as well as a 10 percent penalty on the growth (but not the withdrawal amount). Remember that this money is yours and, unlike scholarships that are contingent on your child attending a certain school, you'll never have to forfeit it.